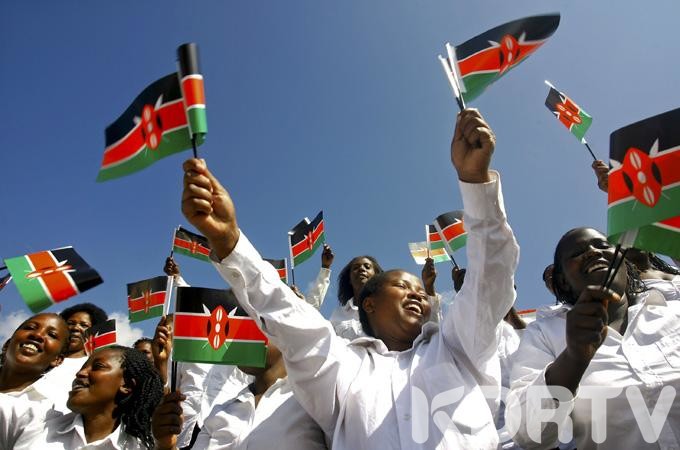 Kenya's competitive presidential elections reflect hard-earned progress in establishing independent constitutional and judicial guardrails, although a history of electoral violence demands all sides show restraint.
Kenyans will vote on August 9 in their fifth presidential election since the re-introduction of multiparty politics in 1991. The competitiveness of the elections, and uncertainty over the outcome, distinguishes Kenya from many of its neighbours.
President Uhuru Kenyatta is stepping down following the completion of his constitutionally limited two terms in office. This, too, makes the Kenyan elections noteworthy, given the recent trend of African leaders sidestepping term limits as a means of extending their time in power to the detriment of stability.
Rather, Kenya has a tradition of transfers of power even between candidates from opposing parties.
Still, elections in Kenya remain a period of high tension. Kenyans recall the large-scale violence that erupted after the 2007 elections when supporters of Raila Odinga, and his then running mate, William Ruto fought over what Odinga's side saw as an effort by President Mwai Kibaki and his top lieutenants including (current President) Uhuru Kenyatta, to "steal" the election.
The Rift Valley was engulfed in deadly violence pitting the Luo and Kalenjin communities – respectively loyal to Odinga and Ruto – against Kenya's largest ethnic community, the Kikuyu, from which Kibaki and Kenyatta hail.
Over 3,000 people were killed, and 600,000 uprooted. Many remain displaced today.
The 2013 and 2017 polls, tightly contested between Odinga and Kenyatta (and his running mate, Ruto), were marred by electoral fraud. The Supreme Court required a rerunning of the 2017 contest due to the irregularities.
This recent history has raised questions about Kenya's ability to hold free and fair elections – and the 2022 elections will provide a benchmark for how much progress has been made.
The potential for violence remains high according to a report by the independent National Cohesion and Integration Commission, due to pre-existing conflicts and weak institutions. Some young people have told the commission that they are paid by politicians to intimidate rivals and disrupt their campaigns.
Kenyans' trust in their institutions is low: only 26 per cent trust the Independent Electoral and Boundaries Commission (IEBC), and just 23 per cent trust the courts despite the courts' taking high-profile stances of independence.
A report by the Mozilla Foundation warns that hate speech, misinformation and disinformation are widespread (though not by the candidates themselves), with some manipulated hashtags getting over 20 million views.
A quintessential feature of Kenyan politics is that the same pool of politicians tends to dominate the political process, though they may be in different camps depending on the election – friends, sometimes bitter rivals. The whipping up of ethnic animosities, especially around land in the Rift Valley, is another feature of Kenyan politics. This is where some of Kenya's most productive lands, previously reserved for European settlers, are located.
The frontrunners in the upcoming polls embody many of these dynamics. Raila Odinga, 78 years old, and William Ruto, 56 years old have worked together as senior government officers and, at times, as vigorous opponents in every election since the early 1990s.
They were on opposite sides under President Daniel arap Moi, the same side against Mwai Kibaki in the infamous 2007 poll that ended in catastrophic violence in the Rift Valley, and are on opposite sides again this time around. The enmity between them has made this election more about personalities than policies.
Odinga is making his fifth and likely final run for office. He is currently viewed as a an "establishment candidate" since President Kenyatta is backing his candidacy following their famous "handshake" reconciliation in 2018.
Odinga's Azimio La Umoja alliance (Resolution in Unity in Swahili) is a coalition of seven major political parties, three of which contested previous elections as bitter adversaries. This includes the Kenya African National Unity (KANU) that ruled Kenya as a one-party state until 2002 and once detained Odinga, the incumbent Jubilee, National Rainbow Coalition Kenya (NARC-K), and its rival from 2007 elections, the Orange Democratic Movement, then led by Odinga and Ruto.
The Azimio La Umoja alliance is organised around older-generation politicians dating back to the 1990s and a populist slogan Inawezekana ("It Can Be Done"), that includes extensive social welfare initiatives: universal healthcare, Inua Jamii, Pesa Mfokoni (Social Empowerment, Economic Empowerment), which is a direct cash transfer of 6,000 shillings ($50) per month to needy families; and Azimio la Kina Mama ("the unity of our mothers and aunties"), which is universal financing for women-led small businesses.