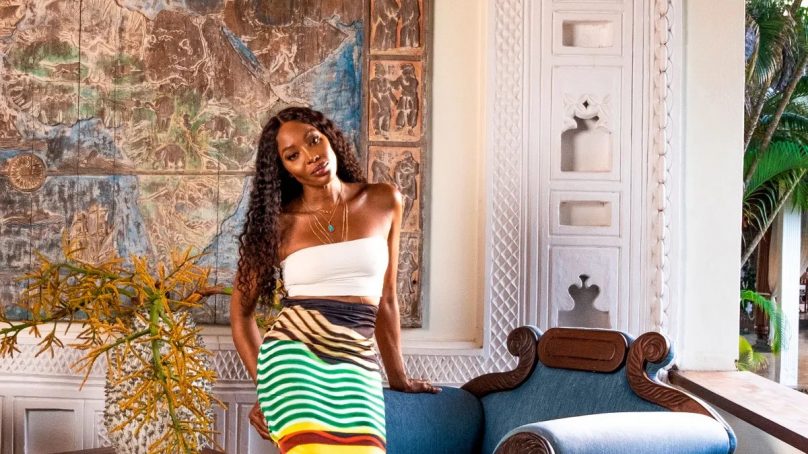 Away from the madding bigotry in what should be their native countries, Black people in diaspora are gradually but determinedly retracing their ancestors' footsteps back to Africa. In the words of African-America film actress Mia Speight, there is a growing desire to live among people who look like them.
Is an exodus back to Africa imminent? "Likely," Ms Speight answers cautiously.
For centuries, Africa's image to the rest of the world was stereotyped with war, disease, hunger, abject poverty and primitivity. The frame has changed, and the industrialised West and East, previously apathetic to Africa, is scrambling for a piece of the continent being recast as pristine, as recently attested to British supermodel Naomi Campbell.
Her heart and soul may have drifted to the part of the universe once derided at the Dark Continent because she now owns property in Africa and does her shopping, especially for furniture, in Africa. This is the opposite of the undying trend in Africa, where the affluent flock Europe, the US, China, Dubai and Japan for shopping.
Campbell, black, has been in the news for the past six months in Kenya after she was named Kenya's tourism ambassador to the chagrin of 'patriotic' Kenyans who prefer the role is bestowed on Hollywood actress Lupita Nyong'o.
The furore the appointment, which comes at a hefty cost, helped lift the veil off Campbell's affinity to Kenya and Africa in general CNN s that avers is symbolised by "an idyllic villa in the sleepy seaside town (of Malindi), which has served as her circuit breaker for more than 20 years."
The hospitality industry in Kenya is abuzz with talk of Campbell's expected impact after Tourism Minister Najib Balala opted for her to promote Brand Kenya in tourist source counties.
With Blacks in diaspora ramping up their desire to reconnect with what they emotionally see as their motherland – hitherto fairy – there is talk of Campbell settling in Kenya when the curtains come down on her career as a model. The model heightened the expectations when she talked glowingly about the East African nation.
"Kenya is just a natural gem. It has the safari, the bush, the coast, the dunes, it has all the elements and people don't realise that," said Campbell. Don't take our word for how beautiful the space is. Take a look for yourself," Campbell was quoted by Architectural Digest magazine in a recent interview for its May cover story.
CNN reports that while "Campbell is not afraid to scour far and wide in the search for striking furniture (she found the ornate latika lanterns currently draped over her rafters in Marrakech), she is keen to support local craftsmanship where possible."
"A lot of the wood furniture that we have in the house is made in Malindi. In fact, we used to have a workshop at the back of the house," the supermodel reveals. This is in stack contrast Kenyan property owners who import furniture from China, Italy or India as an expression of eroticism of exotic tastes.
She told CNN that the villa was furnished by "an esteemed local artist Armando Tanzini. The artwork reappears throughout the residence from hand-carved wooden doors to giant maps of Africa." Campbell taste for African furniture can also be found on the other side of the continent, where she goes hunting for statement pieces to set against her understated earth-toned palette.
"Senegal has amazing furniture," she said. "Every time I go there, I buy furniture and I just collect it and store it away."
Her mantra sits well with the long-abandoned campaign of "Buy Kenya Build Kenya", which at some point during the reign of former President Daniel arap Moi was intended to promote local industries through Kenyanisation economic strategy.
The Ministry of Tourism tapped British supermodel Naomi Campbell the country's tourism ambassador to promote Kenya as "an ideal tourism destination" on account of her global image.
But after her latest video showing off her home, she might be promoted to "why you should relocate to Kenya" ambassador, according to Architectural Digest.
In a recent interview with the paper, she revealed that "when she needs to unplug from the world, she heads to her luxurious villa in Malindi, located on the Indian Ocean coast, which she has owned for more than 20 years."
The magazine adds that the villa features an airy, open-ended design and at the top is a makuti roof – a thatching technique made from the sun-dried leaves of the coconut palm. "It (makuti) is widely used across East Africa and can withstand sun, rain, wind and other harsh environments."
The villa is made up of four swimming pools that include a "saltwater pool that extends outdoors from the centre of the living room."
"It's a very calming place," Architectural Digest quotes her. "You don't really want to be on the phone. You're not trying to find a television. You just want to read and be with yourself. It's nice to just have the silence and the crickets."
The contrast between her hectic professional life, split dwelling between capital cities London and New York and the change of pace her Malindi oasis offers her is not lost on Campbell:
"It's wonderful to go in July," she told Architectural Digest. "All the animals are crossing over from Kenya to Tanzania and you see everything. It's incredible. It's like seeing National Geographic come to life right in front of your eyes."