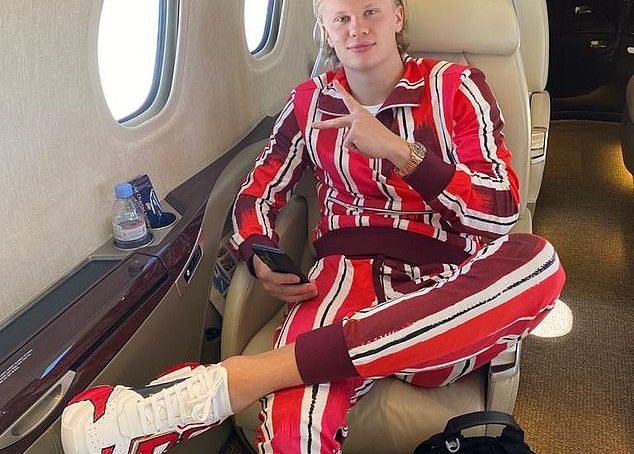 Sometimes there are footballers who transcend the sport, albeit very few. A couple in each generation maybe and, as the curtain comes down on Cristiano Ronaldo and Lionel Messi's era of dominance, the shift to others has already begun.
As Manchester City supporters battled their way through terminal four at the Adolfo Suarez Madrid-Barajas Airport last month, they were greeted by their No 9.
Arms crossed, staring right down the lens, Erling Haaland wore a fancy Breitling watch in a prime advertising spot just beyond passport control. The picture was impossible to miss.
This is the pull Haaland now has. Commercially, he is growing into a phenomenon few can match and there is a feeling that the space is his and Kylian Mbappe's for the next decade. It is why his representative, Rafaela Pimenta, is comfortable openly talking up the prospect of breaking records.
"Erling is worth €1 billion," she said recently. "That's not a guess, I'm sure of it. They might say I'm being ridiculous, that a club is not going to pay a billion. But his age, his quality, his progression and the way he behaves is why I talk about a billion."
No club pays the truly big money for ability alone and her valuation factors in his image and sponsorship appeal. There is no getting away from the fact that for City, he is a game-changer off the pitch as well as on it.
The Premier League champions have spent a fortune on talent during the Sheik Mansour era, but Haaland is the first ready-made superstar purchased since Robinho in 2008, signed on the day Abu Dhabi finance flooded in.
With that, everybody has wanted a piece this season and City will make hay. The Norwegian, not 23 until next month and having signed a multi-million-pound deal with boot manufacturers Nike, is almost always used for commercial shoots because that is what the partners want, him and Jack Grealish.
There will have been delight from sponsors in Abu Dhabi when it became clear that Haaland would travel there with City's Under-23 squad for a warm-weather camp during the World Cup. He did not just spend that time working on an injury with the strength and conditioning coaches, but was filmed cooking with Riyad Maher and relaxing on a hammock for video content.
They had him greeting young locals and he gave a quick interview too.
Haaland – whose viral clip spontaneously mimicking John Stones" Yorkshire accent came from a promotional video – apparently takes this sort of thing in his stride and accepts it is part of the job. He will also surely be aware of his pull when it comes to merchandising.
City wore their new kit at Brentford on Sunday, obviously modelled by Haaland and Grealish in the unveiling promo, and have seen a surge in sales.
It is a record year for their retail department and a new shirt was bought every 12 seconds on the day of release – the highest 24 hours of trading they have ever encountered.
Haaland cannot take sole credit for the increase in numbers but he certainly helps. "Haaland 9" is unsurprisingly the most purchased shirt and sales have gone through the roof in Scandinavia. He is forever in front of the television cameras. You cannot move for Haaland stuff, an omnipresence in a brilliant season.
His impact has not just been noted by the suits, busy in their meeting pods at the City Football Academy planning the next project. It has extended to Pep Guardiola's coaching staff who, after seven years in Manchester, are now heavily invested in everything around the club, even beyond the pitch.
That much was obvious when Guardiola spoke so passionately after Premier League financial fairplay charges were brought against the club in February. They believe this signing, what he does in front of goal but also the fascination with him as an individual, elevates City to a different sphere.
There is a belief that Haaland is bringing in a new wave of younger fans, who start supporting clubs through their idols rather than any pre-existing connection. Haaland quickly became an icon at Borussia Dortmund and further cemented that in his first year here.
He is always the player greeted off City's team bus with the loudest cheer at the Etihad Stadium, and there have been murmurs around the club that he has contributed to an improved atmosphere at home matches, described as giving more "umph" to them.
It also helps that his integration into the squad has been relatively seamless.
"He's genuinely happy for his mates when they do well but he doesn't score," said one source. "You don't see that from strikers, the guys who want the goals. He's different to Ronaldo, even Messi. Look at his smile, how genuine he is."
When City were in for Messi three years ago, his potential arrival was being called "transformative". They would have implemented a "Messi tax" into commercial deals, able to charge more. In Haaland, they now potentially have their own Messi.
Jack Grealish affectionately calls Erling Haaland "the ball magnet" and perhaps inserting a little chip inside his feet is the only way the craftspeople of Montebelluna can improve the man with the Golden Boot.
The quaint northern Italian town, with a population of around 32,000, has a storied reputation in the footwear industry. Historically, its proximity to Bassano del Grappa – renowned for its leather – represented an enormous help in boosting production.
Montebelluna boasts a little factory with a huge say on world football. For years, it has been supplying the biggest stars with their boots. Nike produce a handful of pairs a day out of the workshop and a few of those have made their way to Manchester City's premier striker this season.
Haaland has his Phantom GX Elite boots custom-made by Nike's specialists there. A mould of his foot – described as a "last" in the industry – is prepared to make sure the exact specifications are met and the boot fits like a slipper.
Perfecting the mechanics of the boot is a three-hour process, where the upper part is buffed, closed, bonded, trimmed and pressed. The sole plate is then sealed into place and left to rest on the last for 72 hours, away from the deafening machinery.
It is meticulous work and the attention to detail will extend to any preferences Haaland has over design and any potential padding to a boot that ordinarily weighs 7.2oz (204g), less than a couple of hake fillets.
"Harry Kane's will be quite similar in that each boot will be different," seller Will Amis said. "Heal have more padding on the toes of one and a lighter other boot so it's not too heavy."
The synthetic material is a world away from the old leather of yesteryear but experts say it remains sturdy enough to withstand the rigours of elite sport.
The gripknit material is said to be a stickier texture than previous makes, aiding control. Players can go through a pair every fortnight with the intense Premier League workload, but Haaland is different. He will continue with the same boots for up to three months until there is a colour change – usually instigated by the manufacturers. He trains and plays in them constantly, whereas others might hold some back for matchdays.
The only quick turnaround has been after the victory at Everton earlier in the month. Nike sent over a commemorative design to mark his record-breaking 35 league goals in a single season, surpassing Alan Shearer and Andy Cole, and Haaland trotted out at Goodison Park with the number stitched on.
He promptly scored in that 3-0 win, a big day in the title race, and there had been a joke with City staff that he must cross the number out and write 36 in pen if he was to find the net. He duly did.
Nike were working on another model regardless, one that incorporated the different colourways used throughout an unstoppable campaign. His full name and the Norway flag were added and those are expected to be worn during Saturdays FA Cup final against Manchester United at Wembley.
They are different to what you might find in the Nike store for £244 and the Phantoms have become a popular choice throughout the league. Some of Haaland's team-mates – including Phil Foden, Ruben Dias and John Stones – sport them and it is apparently unusual for one model to be chosen across such a broad range of positions.
"It's because of how they feel," Amis added. "With Nike's Tiempo, people say it's a centre back's boot or a central midfielder's boot. But Haaland's boot is being worn all over the pitch, the only one of its kind out there at the moment. So many players are wearing it because of how differently it fits."
After agreeing a long-term, multi-million-pound contract with Nike earlier in the year, the fit certainly feels right for a 22-year-old who has been walking on Air ever since signing for City.