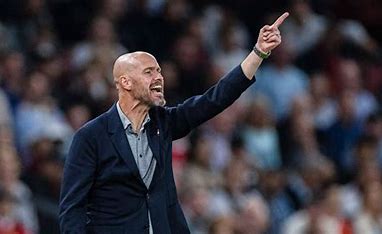 When Erik ten Hag arrived at Manchester United in May, the new manager was asked by one of the coaching staff how he would like to be addressed. Ten Hag thought about the question for a moment.
"Well," he said. "You know I'm the boss, and I know I'm the boss, so call me what you want." Nearly eight months on and no one at United is in any doubt that Ten Hag is the boss.
The Dutchman has stamped his authority on this team – this club – in a way that has transformed United from a basket case into a genuine force in English football once again. He approaches Saturday's 189th Manchester derby on a run of 11 wins in 12 games, knowing that victory would see United climb to within one point of Manchester City – the overwhelming favourites to win the league this season.
That's easier said than done, of course. Ten Hag suffered a brutal 6-3 defeat at the hands of his old boss Pep Guardiola at the Etihad in October, and City are capable of inflicting similar damage again. Regardless of the result, however, United will reach the halfway point of the season in significantly better health than when Ten Hag took over.
The 52-year-old walked into a toxic dressing room and a club desperately in need of new direction after nearly 10 years of turmoil. He has made some big decisions, like benching his captain Harry Maguire, and spent a club record £220 million on signings in one window alone.
He imposed a new code of discipline and has improved the players he inherited, fostering a sense of togetherness that had been lost. Nothing has defined Ten Hag's tenure more than his handling of the Cristiano Ronaldo saga. The Portugal star wanted to leave even before his new manager stepped through the door, and that was a daunting scenario for any coach.
For Ten Hag, it was the ultimate test but also the perfect opportunity to lay down a marker to the rest of the squad. Winning that battle was a crucial lesson for a group of players used to their superstars being indulged — no one is above Ten Hag's law.
Under Ole Gunnar Solskjaer, there was always a sense of double standards that bred discontent. A blind eye was turned to the likes of Ronaldo and Paul Pogba. There can be no exceptions for Ten Hag. No preferential treatment. Discipline is paramount, even if it weakens the team.
When Marcus Rashford overslept on the morning of United's game at Wolves last month and was late for a team meeting, staff were told that the in-form striker had been benched as they prepared to leave the hotel for Molineux.
It's telling, though, that United won the game and Rashford came on to win it for them, having accepted his punishment.
"It's the same rules for everyone," a source revealed on Friday. "Erik tells them why they are being punished, and he didn't cut Marcus any slack."
It was clear from the first day of the club's summer tour when players wandered downstairs at the Athenee Hotel in Bangkok in different clothes and footwear. Ten Hag told them in no uncertain terms that from then on, there would be a strict dress code on club business. They were to wear matching gear and trainers, never sliders.
They only had three days off on the 17-day trip, but even then, decisions had to go through the manager. When MUTV planned to film players on the set of Neighbours in Melbourne, it was swiftly kiboshed.
Alejandro Garnacho was late for two meetings and didn't feature in any of United's four games as a result. When the teenager later walked on to the training pitch at Carrington looking rather dishevelled and with his laces undone, he was told to pull his socks up. Literally. Like Rashford, Garnacho didn't sulk and has gone on to be one of the success stories of United's season.
Ten Hag's no-nonsense approach extends to the players being given strict instructions about rest periods and eating arrangements. There are fixed meal times in the canteen at Carrington and on away trips, during which use of mobile phones is forbidden.
They rarely stay at the Lowry Hotel before matches at Old Trafford these days. Under Jose Mourinho, United arrived late for their own home game against Juventus in 2018, but Ten Hag lets the players report to the ground four hours before kick-off.
Its No.7 Suite has been adapted so the squad can get together for a pre-match meal and team meeting.
The United hierarchy knew exactly what they were getting when they hired Ten Hag. Chief operating officer Collette Roche was confronted by a table full of graphs and data prepared by the then Ajax boss when they met before he got the job.
Steve McClaren, who had Ten Hag as his No.2 at FC Twente, recalls meeting him for the first time and being given a comprehensive programme covering the first six weeks of training, even down to the timing of drinks breaks and what each coach would wear.
After becoming a manager in his own right, Ten Hag is known to have wanted the grass cut to a certain length and the players' water bottles to be laid out in straight lines.
When he agreed to join United, Ten Hag was adamant that McClaren work alongside him because of his knowledge of the English game, and also insisted on having overall control of the club's reserve team.
He asked for a £200,000 upgrade to the team meeting room at Carrington – including tiered seating and a new £100,000 TV, which is where United's players pored over a replay of their calamitous 4-0 defeat by Brentford at the start of the season.
It's well documented that Ten Hag punished his players by ordering them to complete an eight-and-a-half-mile run, yet still earned their respect by joining in on the challenge himself.
The manager, who has also brought in former Ajax performance analyst Kevin Keij and Dutch sports psychologist Rainier Koers, remains the dominant figure on the training ground and the players seem to appreciate his hands-on approach.
He drums into them the fundamentals of being a professional footballer at one of the biggest clubs in the world on a daily basis, and meets with each player individually almost every week to explain what he expects of them.
"Not even Mourinho was at that level of interaction with the players to make sure they get the message," said one source.
The squad are often made to train on their weaker foot and tap-ins are frowned upon, with everyone told to make sure they hit the back of the net. No slacking, no half-measures. In fact, insiders say that Ten Hag has become even more obsessed with discipline the longer he has been in the job.
That's not to say he doesn't have a lighter side. During United's winter training camp in Spain, he upheld the tradition of new members of staff having to sing in front of the rest of the group at the Montecastillo golf resort in Jerez de la Frontera.
Ten Hag didn't take the mic himself but new chef Ryan Thompson went down particularly well with his rendition of Unchained Melody.
Perhaps the biggest compliment you could pay Ten Hag is that he has recruited well while also improving the squad he inherited at Old Trafford. A resurgent Rashford is the prime example, and the England star has certainly benefited from one-on-one sessions with new forwards coach Benni McCarthy. But United are better across the board.
The signings of Casemiro, Lisandro Martinez, Christian Eriksen, Antony and Tyrell Malacia have had a major impact, too. When journalists questioned Martinez's 5-foot-9-inches height on tour in Melbourne last summer, Ten Hag bristled as he described the Argentine as "a warrior". He has been proved right.
United have placed a greater emphasis on players' characters after he identified a flaw in many of their signings in recent years. "We needed personalities – United's shirt weighs heavily," Ten Hag told Voetbal International last week.
Like Guardiola, he is a football obsessive. He describes working under the City boss at Bayern Munich as "like winning the lottery".
The two men have been reunited in Manchester, where Ten Hag has settled in the upmarket suburb of Hale. He has been seen out cycling with his wife Bianca and even turned up on his bike at nearby Altrincham FC when United's Under 23s played a friendly there in July.
By his own admission, Ten Hag doesn't talk to Guardiola as much these days. But, then again, he is very much his own man now.