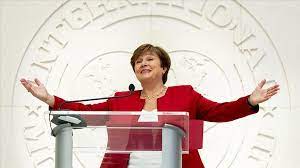 From almost nothing 20 years ago, Chinese banks now make up about one-fifth of all lending to Africa, concentrated in a few strategic or resource-rich countries including Angola, Djibouti, Ethiopia, Kenya and Zambia.
Annual lending peaked at a whopping $29.5 billion in 2016, according to figures from the China-Africa Research Initiative at Johns Hopkins University, although it fell back in 2019 to a more modest, if still substantial, $7.6 billion.
Having dived headlong into the world's poorest continent, Chinese lenders have grown more cautious as some nations have reached the limit of their borrowing capacity and the prospect of default looms.
The International Monetary Fund (IMF) lists more than 20 African countries as being in, or at high risk of, debt distress. In response, lenders, including China Eximbank and China Development Bank, the country's two main policy banks, have adopted increasingly hardline lending terms.
According to IMF Managing Director Kristalina Georgieva, 40 per cent of African countries are in debt distress.
Georgieva told Bloomberg Berlin in June last year that the debt-stressed countries that include Kenya, Zambia, Uganda, Ethiopia, Djibouti, Democratic Republic of Congo, Congo (Brazzaville), Angola, Mali, Ivory Coast, Egypt, Chad, Gabon, Malawi, Mozambique, Sudan, South Sudan, Ghana and Tanzania need sound macro-economic policies to improve the investment climate and show it to the rest of the world.
"Africa is a continent of opportunities and what we are looking for is for this opportunity to be harnessed to the maximum. It is also a continent with many troubles so we have to be mindful of these risks especially security risks," she is quoted as saying.
Georgieva says, "In some cases, we are concerned about that but in other cases, we see that investment is going to pay off over time. Take the case of Kenya, we advise Kenya to be more cautious in building debt but we have seen good macroeconomic policy in Kenya. In cases where debt is dangerous like Zambia, we do say you need to get a handle on your debt. In Ethiopia, we say you need to renegotiate some of your debt because it is non-concessional for things that should be on a concessional basis. One has to remember that debt on its own is not bad. It is bad when it goes with the wrong things and when it goes with the speed that the economy cannot handle."
Financial Times of London reports that some of the conditions being pursued by IMF differ markedly from other official creditors, which are starting to be tested as pandemic-related economic hardship puts a strain on more indebted African countries.
Xi Jinping reinforced that caution in a video speech to the triennial Forum of China-Africa Cooperation held in Senegal in November 2021, according to FT.
"Over the next three years, China's president said, the country would cut the headline amount of money it supplies to Africa by a third to $40 billion and, he implied, redirect lending away from large infrastructure towards a new emphasis on small and medium-scale enterprises (SMEs), green projects and private investment flows," FT said in a story published on January 11.