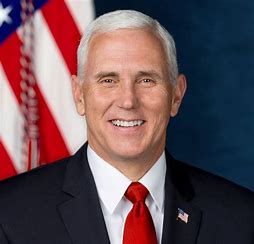 The White House on Monday asked former Vice President Mike Pence to apologise for what it called a "homophobic joke" he made over the weekend aimed at Transportation Secretary Pete Buttigieg.
"The former vice president's homophobic joke about Secretary Buttigieg was offensive and inappropriate, all the more so because he treated women suffering from postpartum depression as a punchline," White House press secretary Karine-Jean Pierre said in a statement. "He should apologise to women and LGBTQ people, who are entitled to be treated with dignity and respect."
Pence, headlining at the annual Gridiron Club dinner in Washington for journalists and politicians, mocked Buttigieg – wife in a gay union – for taking parental leave after the birth of his adopted twins while he said Americans faced issues with air travel.
"He took two months 'maternity' leave whereupon thousands of travellers were stranded in airports, the air traffic system shut down, and airplanes nearly collided on our runways. Pete is the only person in human history to have a child and everyone else gets postpartum depression," Pence said, according to reporters present.
Notably, Buttigieg's twins were born prematurely, developed Respiratory Syncytial Virus Infection (RSV) and one was hospitalised and put on a ventilator, a point his husband, Chasten, called out in a tweet directed at the rumoured 2024 presidential hopeful.
"An honest question for you, @Mike_Pence, after your attempted joke this weekend. If your grandchild was born prematurely and placed on a ventilator at two months old – their tiny fingers wrapped around yours as the monitors beep in the background – where would you be?" he said.
Marc Short, Pence's former chief of staff, called the response from the White House "faux outrage."
"The White House would be wise to focus less on placating the woke police and focus more on bank failures, planes nearly colliding in mid-air, train derailments, and the continued supply chain crisis," Short said in a tweet.
It's far from the first time that Buttigieg has faced criticism from those on the right for taking paid parental leave, with Pence's language echoing lines repeatedly espoused by Fox News host Tucker Carlson.
"Pete Buttigieg has been on leave from his job since August after adopting a child. Paternity leave, they call it. Trying to figure out how to breastfeed, no word on how that went," Carlson said on his prime-time show two months after the twins were born.
ABC News' Gio Benitez asked Buttigieg on Monday if he thinks Pence owes him an apology, to which he responded, "You know, I'll let others speak to that. You know, it's a strange thing to me because last time I saw him, he asked me about my kids like a normal person would. I guess, you know, at a political event in white tie, it's a little different. But again, there's not a lot of time for me to focus on the Washington game because we have real work to do."
Buttigieg has spun the criticism before to say that "maybe some good came out of" the attacks he's faced.
"It's helped us have a conversation about parental leave," he told co-hosts of "The View" in October 2021. "Every American ought to be able to get paid parental leave. That's something that the president believes in and has proposed. It's something I believe."
But, he continued, "When parents take that parental leave, they need to be supported in making that choice."
Pence notably broke with Carlson's recent whitewashing of January 6 in his speech Saturday and offered his strongest rebuke of former President Donald Trump yet.
"History will hold Donald Trump accountable for January 6," Pence said at the dinner. "Make no mistake about it: What happened that day was a disgrace, and it mocks decency to portray it in any other way. President Trump was wrong. His reckless words endangered my family and everyone at the Capitol that day."
"Tourists don't injure 140 police officers by simply sightseeing," he added. "Tourists don't break down doors to get to the Speaker of the House. Tourists don't threaten public officials."