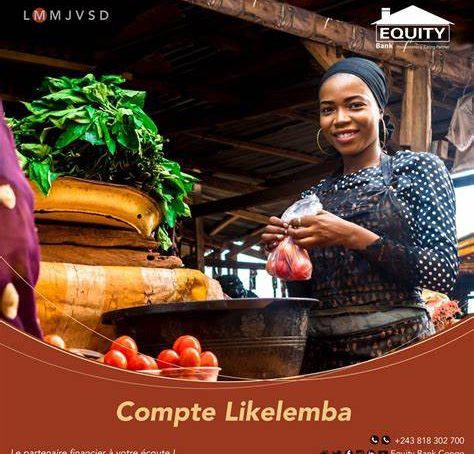 Kenya's Equity Bank has crossed the Ksh1,000,000,000,000 ($9,259,259,260) rubicon, becoming the first bank in East and Central Africa to cross this psychological barrier.
Equity, Kenya's largest bank by customer base, announced that it had reached the milestone following successful migration of Banque Commercial Du Congo (BCDC) to Equity's Finacle core banking platform.
The bank said in a statement on Wednesday, "The one trillion mark by Equity lifts the visibility of the financial sector in Eastern Africa significantly to compete favourably with financial institutions in South Africa, West Africa and North Africa for project and development finance."
The bank's ascendancy to the financial pinnacle in the mainly Common Market for Eastern and Southern Africa (Comesa) was made public by Equity Group chief executive James Mwangi during completion of the migration of BCDC to Equity's core banking platform.
Dr Mwangi said in the Democratic Republic of Congo capital, Kinshasa, early in the week: "We are delighted to witness this milestone that has shattered the psychological barrier of a trillion-shilling ($9.3 billion) balance sheet. The benefits to our customers will be immense. The bank is also the most capitalised in East and Central Africa with over Ksh142 billion ($1.3 billion), giving it a single lending obligor of Ksh35 billion ($324 million). "
Equity banking subsidiaries will now be in a position to leverage the bank's strength to extend large corporate loans to individuals and corporate institution in all the countries where Equity has a presence.
Equity Group Holdings is a Pan-African financial services holding company that is listed on the Nairobi Securities Exchange, Uganda Securities Exchange and Rwanda Stock Exchange.
It also has banking subsidiaries in Kenya, Rwanda, Uganda, South Sudan, Tanzania and the DRC and a representative office in Ethiopia. There are also plans for a presence in Malawi, Zambia and other Southern African Development Community (SADC) bloc member-states.
The bank's portfolio also includes subsidiaries in investment banking, insurance, telecommunications, fintech and social impact investments. Equity's asset base is estimated to be more than $9.3 billion. With over 14.2 million customers, the bank commands a huge customer base in the region.
BCDC, says Dr Mwangi, brings to Equity more than 112 years of corporate banking experience and will be instrumental in buttressing the bank's banking experience.
In what is deemed a symbiotic relationship, BCDC will in turn benefit from the agility of Equity's dynamic and disruptive business model. The two brands will create a formidable financial institution in DRC with a tested and trusted BCDC brand that has proven itself for 112 years and the global reputation of Equity Bank, its capitalisation, advanced technology allowing digital, online banking and sophisticated security systems.
By embracing a self-disruptive culture, staff have continued to deliver innovative products and services that give customers convenience and freedom of modern banking, says Mwangi.
BCDC's managing director Yves Cuypers said during the event, "We are excited at the possibilities that Equity Group Holdings brings to our BCDC customers. By becoming part of a large international financial services group, our customers will enjoy a wider choice of products and services and most importantly, they will immediately be able to access modern technologically-driven banking that includes versatile mobile banking, international card payment options and merchants, access to a wide range of payment outlets and a broad digital banking footprint."
BCDC will now enjoy a versatile world class core banking system with modern fail-proof security features that cushion customers against money laundering besides the know-your-customer screening capabilities.
The BCDC customers will enjoy a shared platform in the six countries where Equity operates. That will give them access to a multi-currency and multi-country platform that supports real-time cross border transactions.
Equity has accelerated its technology capability to deliver self-service banking across its markets through mobile banking, agency banking and online banking.
Since 2008, Equity Group Foundation has refined its corporate social responsibility programmes in education and leadership, food and agriculture, social protection, health, clean energy and environment, enterprise development and financial inclusion to millions of Africans. The foundation's healthcare provider, Equity Afia, has been supporting Covid-19 relief efforts.