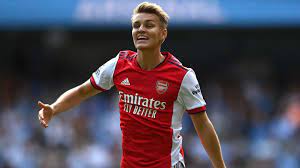 Arsenal's summer signing Martin Odegaard clearly does not lack for confidence after making an ambitious claim as to what Gunners could achieve in the coming years.
The Norwegian playmaker, 22, joined Arsenal on a permanent deal this summer after impressing on loan last season. Odegaard was always believed to be the club's No.1 target in midfield. And after a protracted pursuit, a deal worth at least €35 million was struck with Real Madrid.
Odegaard is just one of six new faces to arrive at the Emirates in a summer of great upheaval. The common theme running through the new arrivals is their age. Not a single one of Arsenal's signings this summer are over the age of 24. That would suggest Arsenal's decision-makers are conducting their business with a focus on the future as much as the present.
However, when speaking to Sky Sports, Odegaard revealed he is not prepared to wait long to experience major success. As cited by the Mirror, Odegaard claimed he hopes the Gunners will win both the Premier League and Champions League "within a couple of years."
Arsenal currently sit bottom of the table and are yet to register their first goal of the new league campaign. They are embarking on their first season without Europe since 1996, making Odegaard's objectives all the more ambitious.
When asked about his aims and objectives, Odegaard said: "To get the club up the table, near the top of the league and fight for European football and fight for trophies.
"I think for this season obviously we want to get back to European football. That will be important for us, the players, the club and the fans.
"Then hopefully with time, win trophies, Champions League and hopefully win the league within a couple of years. I think that's from everyone, this club needs to be at the top, needs to play European football and I think everyone agrees. It is not something we've talked a lot about but that's just how it should be in this club. That's the standard."
Meanwhile, Graham Potter and Thomas Frank are emerging as potential head coaching candidates for Arsenal if, and when, they decide to move on from Mikel Arteta, TeamTalk can reveal.
The Spaniard is under pressure, and he is firm favourite in the Premier League sack race to be first out of the door. Arsenal go into this weekend's clash with Norwich sitting bottom of the table, having lost their opening three games.
It is not believed that Edu and the rest of Arsenal's hierarchy are considering an immediate change. However, tensions are high within the club about their poor start despite a healthy outlay on new talent this summer.
We understand that some within the club have started looking around at potential options, and whilst out-of-work coaches such as Antonio Conte and Eddie Howe are being linked, it is believed Frank and Potter are of interest.
It is believed the attacking football displayed by Frank and Potter's teams are something that does impress Emirates chiefs.