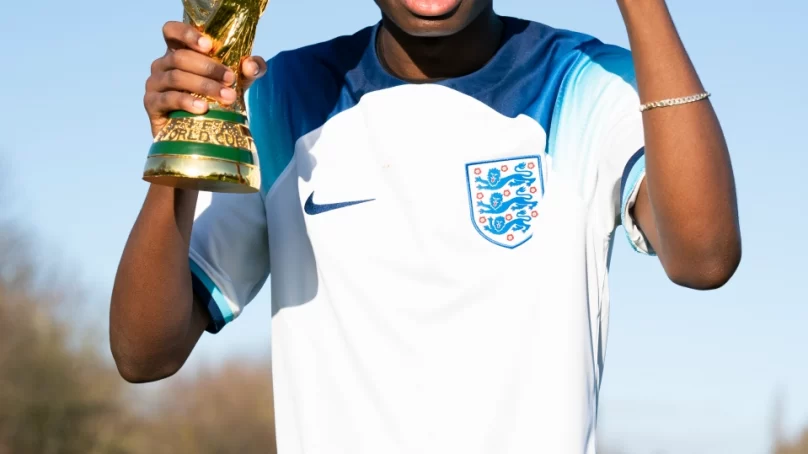 England were tipped to beat France by Kylian Mbappe – a teenage student from Leicester.
Kylian, 16, is a second cousin of the PSG superstar, 23, who aims to break Three Lions hearts in Saturday's World Cup quarter-final.
Left-footed Kylian plays too and said, "I'm the real Kylian Mbappe and am backing England. If Gareth Southgate called me up I'd stop Mbappe. I'm pretty fast like him. It must run in the family. And I'm a decent defender."
English Kylian was born in Paris to Steeve, 46 – cousin of Mbappe's dad Wilfried. The sports studies student added, "My dad and family are all supporting France but I'm behind England. All my friends are Three Lions-mad. And if I'm honest, I'm more English than French now. I speak better English, I've lived here for longer, I love baked beans and Greggs. I'd pick a sausage roll over a croque monsieur any day."
While his cousin earns £650,000 a week and owns a £3 million flat in Paris, Kylian makes £6.50-an-hour washing dishes at The Frame pub and lives in a £350,000 three-bed semi in Braunstone Town. His namesake drives a £500,000 Ferrari 488 Pista while the Briton has a £5-a-day bus ticket.
Teen Kylian, whose mum lives in France, added, "I've never had any trouble from my name. All my friends knew me before Mbappe was famous, so I'm still Kylian to them."
He plays left-back for club side Friar Lane & Epworth FC and said, "Other teams must take a second look when they see me on the team sheet.
"Maybe they think it's a joke."
He added: "I only realised my name was so crazy when I was watching TV and saw this young Monaco player called Kylian Mbappe. I told my dad and he said, 'Yes, that's the son of my cousin'. I found it funny but it's a real honour. I would love to meet him one day."
Dad-of-two Steeve grew up with cousin Wilfried in Cameroon. He added, "When my son was born I didn't even think about the name. I picked Kylian because I liked the meaning (little warrior). It was only when I went with Wilfried to watch his son, we thought the coincidence was hilarious. I would not swap my boys for the world and I have the real No1 Kylian Mbappe."
Yesterday, he talked about how Mbappe himself is an England fan – after draping his waxwork in Three Lions memorabilia.