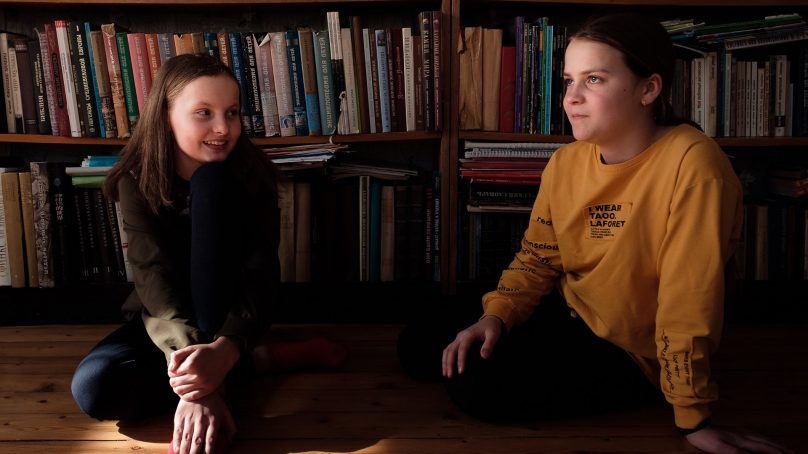 On the frontline of the conflict in eastern Ukraine, nearly half a million children are living childhoods defined by war.
"I see that war made people here negative, abusive, and violent," says 12-year-old Veronika. "That used to be just an adult thing, but children are now like that too here."
Veronika writes poems – not about war, but about love. "That's the kind of world I would like to have around me," she says.
Earlier this year, Veronika and half a dozen other children spoke to photojournalist Jakub Laichter – along with their guardians, parents, and grandparents – from homes and military positions near the frontline in and around Avdiivka, a government-controlled suburb of the rebel-occupied city of Donetsk.
They shared their memories of peace, and their hopes for a time after war – one that has continued for eight long years. This is more than half a lifetime for Veronika; and a full lifetime for others.
Some 430,000 children in Ukraine's frontline regions "live with psychological wounds and need ongoing support to address the emotional trauma of growing up in a prolonged conflict," according to UNICEF.
Despite the government's increasing engagement in humanitarian response as the war has gone on – and the sustained efforts of a handful of NGOs in frontline regions – mental health support for children remains insufficient. And the pandemic and its economic fallout have weakened the healthcare system, decimating social services alongside vital infrastructure like water supplies and sanitation.
It's 9 o'clock at night and Marika, 13, and her father Oleksiy are repairing a door in their kitchen. He is teaching her about different types of wood, why some furniture lasts longer than others, and what kind of paint is good for different surfaces.
Their home is an elegant wooden house, dating from before the times of Soviet concrete. Now that it has been devastated by the war, there's a lot of work to be done. "We repair stuff all the time," says Marika. "Dad told me that once we finish, we can go on vacation, but I don't think that's going to happen anytime soon."
Marika's family lives in the old part of Avdiivka. Once home to thousands of families, this place used to be a snug of suburban cottages. Today, it lies half empty and in ruins, with most residents having moved to the new part of town, an industrial Soviet-era project. This is a grimmer place, but it offers more safety from artillery fire thanks to concrete-block buildings that are several storeys high.
"I wish to be washed clean of my life here, to stop dreaming of what's going on," Marika says, referring to the normal lives she imagines children living elsewhere.
Some of the most intense fighting of the war has ripped through Avdiivka's old town, which is only a few hundred metres from the frontline.
"When the war began in 2014, we fled for two months," Marika recalls. "That was the worst. We didn't get far, about 70 kilometres from here. There was some shooting there too, but less than here in Avdiivka. I did not like it over there, but we were lucky: A few days after we left, a mortar shell flew through our house."
Even after years of living with the conflict, children here are often somewhat innocent about the reality of the war. Many witness explosions on a daily basis – some destroy the lives of people close to them, others affect them more directly.
For Marika, the fact that their family home got hit is difficult to process.
"I remember when we came back. It was horrible to see our home like that. The explosion turned our home upside down. I think mum and dad cried, but they did not tell us," she says, adding: "Our cousin painted that explosion on the wall."
It's a Sunday afternoon. The yard is filled with sun and a warm breeze. Marika's family is enjoying the first barbeque of the year. Her mother, Svetlana, and Oleksiy are preparing vegetables and a few sausages for the grill. Marika is sitting with her cat high in the branches of a cherry tree. She is telling a story to Veronika, who is sitting in the grass below.
Veronika and Marika are best friends from school and spend most of their free time together. "You are quiet. Speak with me," mutters Marika. "Shhh, writing a poem," Veronika whispers back under her breath.
"I wrote my first poem on the second of October, but I am not sure what year it was – I forgot to write that down," says Veronika. "At first, not everyone liked it, but that was fine. I was too small to care. I remember when I showed it to my mother – she did not believe me. 'You just copied it somewhere,' she laughed. But I did not! I don't like when people ask me how I do it. Because I don't know. I just write lines and there they are.
"Once, a boy from my class asked me to write a poem for him," Veronika continues. "I think he was surprised it was not in Russian. I like Ukrainian more, and I think he liked it too. It makes my poems feel better in some way. He asked me to sign it. But I don't have a signature [yet]. Maybe when I am older. I like to be 12. You are not too old yet and so you can still have a fun life. To be honest, I don't really want to grow up, and I think people can still enjoy my poems without the signature.
"I tried to write poems about the war and what I see around me, but those things just don't come out of me. So, I write poems about love… I don't know why the war is going on. I only know that I want it to stop so we can all live peacefully together. I had a friend. He was an old guy. I would go to him and we would speak; about poetry and everything… I remember my mother receiving this call. Her face did not look alright and I knew what happened. I think I did not smile after that for a long time. I don't like my friends dying because of the war. Lots of them did."
Veronika is suddenly reminded by a distant explosion of the approaching dusk and stops her monologue. She knows she should go home, but she doesn't really want to. Veronika's parents don't let her come here as often as she would like. Marika's house is just a couple of hundred metres from Veronika's, but here that can often be the difference between relative safety and danger. Svetlana encourages her to leave. "I will take you home," she says. "Don't make your parents angry."
They walk together through the dark street. The air smells of gunpowder, but it is quiet. Veronika is finishing her last thought: "I don't remember much of life before the war. I was just five. I remember being able to visit my friends and family in Donetsk. I think it never rained and it was always sunny. Our town was just full of positive energy; but now it is destroyed. I guess it is like black and white, before and after. It is like my poems. For white, there always needs to be some black, and one needs to come after each other." Then, they disappear into the night.
It is after midnight. Marika's parents are sitting in the kitchen. They don't know what awaits them. Everything seems uncertain. The possibility of another full-blown separatist invasion seems inescapable, and with it also the fear they might need to flee their home once again.