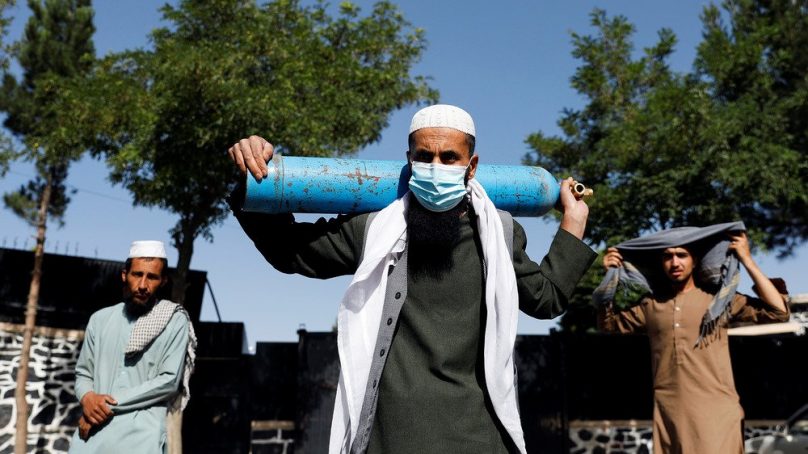 International aid suspensions could shutter most of Afghanistan's public health facilities, essentially leaving the country without a working healthcare system, officials and aid groups say.
Some 2,000 donor-funded clinics and other health facilities could shut their doors within days, stripping access to primary or secondary healthcare from millions of people. The closures, amounting to 90 per cent of clinics funded by a World Bank-administered donor pot, would also leave only a fraction of Afghanistan's Covid-19 isolation beds still operating, the World Health Organization said.
After the Taliban's sudden rise to power in August, the World Bank and other major donors froze aid payments to Afghanistan. This includes funds for the $600 million Sehatmandi programme, which forms the backbone of the country's aid-dependent health system.
Afghan NGOs, international aid groups, and the country's health minister warn that there could be thousands of preventable deaths if the funding isn't replaced or re-channelled.
"The decision leads the system close to collapse," Dr Wahid Majrooh, Afghanistan's acting health minister, says. "People – mothers, children, malnourished infants and children, those in need of vaccination – will be deprived of access to healthcare services."
The public health system was already on life support. Many of the Afghan NGOs contracted to provide healthcare through Sehatmandi say they haven't been paid in months, partly due to government delays that preceded the Taliban's rise.
These NGO-run facilities generally stayed open after the Taliban swept across Afghanistan in mid-August.
A staff member at one Afghan NGO said it hasn't received payment for at least five months. The NGO has been using its savings to fund programmes.
"We have health and community development projects funded by the World Bank through the government. [These] activities will be shut down if financial support is not provided in the near future," said the staff member, who The New Humanitarian is not naming due to security concerns. "We are a not-for-profit organisation not able to further provide financial support."
The threat of closures underscores donor funding dilemmas now that the Taliban are at the helm in Afghanistan.
Since the US-led military invasion ousted the Taliban in 2001, international donors have pumped in billions of dollars in reconstruction funds. After two decades, they have left the country aid-dependent, and it's unlikely the Taliban have the resources to replace the suspended donor funding.
It's not just the health system that's at risk. The World Bank-managed reconstruction fund that fuels the Sehatmandi programme accounts for about 30 per cent of Afghanistan's public sector budget alone. It drives programmes from education and health to women's empowerment and parts of the Covid-19 emergency response.
Overall, grants from foreign donors accounted for up to three quarters of Afghanistan's public spending, the World Bank says.
A UN-backed ministerial conference, set for 13 September, is expected to seek urgent funding to stem what's being called a potential "humanitarian catastrophe." Afghanistan faces severe drought, food shocks, an economic crash, and an internal displacement crisis – on top of the political upheaval and deep fears of rights abuses under Taliban rule.
However, the summit is aimed at boosting humanitarian relief – channelled through UN agencies and big international NGOs – not at replacing the more sizeable, longer-term development flows now suspended by the World Bank and other donors.
Emergency aid funds might cover mobile health clinics, for example, but not the core clinics, hospitals, and specialised services that comprise any public system.
A UN-backed appeal released ahead of next week's conference calls for some $600 million in emergency funds for the rest of the year. But it also warns that humanitarian aid is "not nearly sufficient" to replace basic government services.
"Failure to rapidly re-establish these systems risks exponentially increasing the number of those in humanitarian need, and will likely exceed the number of people humanitarians alone can support," the appeal states.
The WHO said aid agencies are looking into supporting 500 health clinics as a stopgap measure, but this amounts to less than a quarter of the country's public health facilities.
Afghanistan's health system largely relies on local NGOs to deliver services in hard-to-reach rural areas. As part of this system, more than 30 local NGOs are contracted through the government using Sehatmandi funds.
Before the Taliban takeover in August, this included risky frontline work straddling the country's conflict. Local NGOs balanced threats, demands, violence and forced closures from armed groups like the Taliban or pro-government forces – particularly in disputed areas.
The system was far from perfect. It relied on a public tender process whereby Afghan NGOs were incentivised to lower their costs: Organisations frequently under-bid in order to win contracts, staff at several NGOs said. Costs might be recouped by spending less on equipment, medicine, staff, or staff safety, aid workers said.
Pressure from the Taliban and other groups forced the temporary closure of a fifth of health clinics at one point this year, according to SIGAR, the US congressional watchdog tracking reconstruction funds.
But the Sehatmandi programme also allowed the public health sector to reach areas well beyond government control. In some areas, NGO-run clinics are the only available health service.
"There will be huge consequences," said Karl Blanchet, who heads the Geneva Centre of Humanitarian Studies. Blanchet is one of several international and Afghan experts who advised the health ministry on updating the basic health package delivered by NGOs – changes that were to come online next year.
Since donors are reluctant to send aid funds to a prospective Taliban government, Majrooh, the acting health minister, is calling for other ways to fund the public system: channelling money through UN agencies or the private sector or directly funding Afghan NGOs.
"We're losing a health system which proved its resiliency during three waves of Covid-19," Majrooh said. "Realistically, channelling funds to the existing political system is political and not doable, as per the statements we have received. But we are open at this point for any mechanism our donors would prefer."
The New Humanitarian report