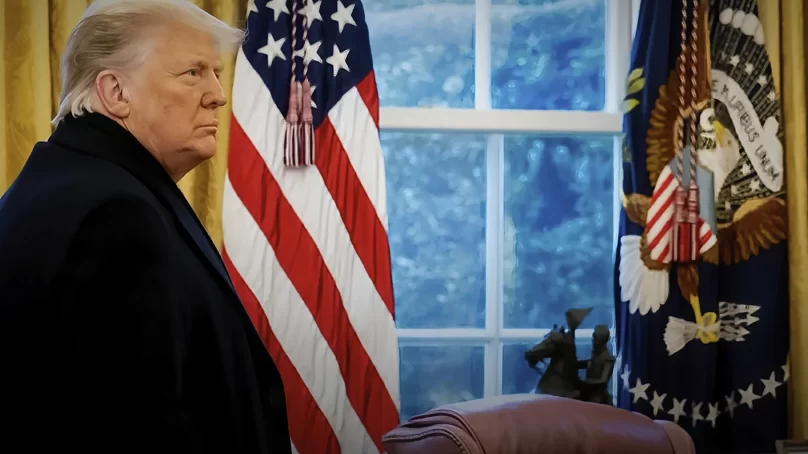 Donald Trump is facing new blowback from anti-abortion activists for refusing to commit to national abortion restrictions and for calling Florida Governor Ron DeSantis' signing of a six-week ban on the procedure a "terrible mistake."
Speaking on Sunday on NBC's "Meet the Press," Trump repeatedly declined to say whether he would support a federal ban on abortion. He said he could "live with" the procedure being banned by individual states or nationwide through federal action, although he said "from a legal standpoint, I think it's probably better" to be handled at the state level.
Regarding the bill signed by DeSantis, which bans abortions before many women know they are pregnant, Trump said, "I think what he did is a terrible thing and a terrible mistake."
So far, the former president has dominated the 2024 field while at times spurning the anti-abortion groups that traditionally have huge influence in Republican primaries. But Trump's direct attack on DeSantis, whom he's long treated as his chief rival, could give the Florida governor new fodder as he tries to regain momentum in his campaign and solidify his second-place standing.
Speaking to an Iowa radio station on Monday, DeSantis said he was proud to have signed the Florida legislation, which he called "noble and just."
"I don't know how you can even make the claim that you're somehow pro-life if you're criticising states for enacting pro-life protections for babies," DeSantis told Radio Iowa.
He also criticised Trump's statement that he would work with both sides regarding abortion policy, warning, "I think all pro-lifers should know that he's preparing to sell you out."
At a campaign stop in Mason City, Iowa, on Monday, Senator Tim Scott of South Carolina mentioned other candidates who oppose a national abortion ban but specifically accused Trump of retreating on the issue.
"Frankly, those pro-life folks that we really want to stand with us are not standing," he told more than 80 people in a church meeting room. "President Trump said he would negotiate with Democrats and walked back away from where I believe we need to be, which is a 15-week limit on the federal level."
Following Sunday's interview, the country's largest anti-abortion organisation, which backs a national ban on abortions at 15 weeks of pregnancy, quickly released a statement saying anything less restrictive "makes no sense."
"We're at a moment where we need a human rights advocate, someone who is dedicated to saving the lives of children and serving mothers in need. Every single candidate should be clear on how they plan to do that," said Marjorie Dannenfelser, president of Susan B. Anthony Pro-Life America.
The Supreme Court ruling overturning Roe v. Wade left the decision of whether and how to restrict abortion to the states, creating a patchwork of laws across the country, with most Republican-led states imposing new restrictions and states led by Democrats passing protections.
Twenty-five million women of childbearing age now live in states where abortions are more difficult to get than before the ruling.
Trump has approached abortion from a political stance, saying that the Supreme Court's decision gave conservatives room to negotiate new restrictions. He has argued Republicans' push for abortion restrictions hurt the GOP in the 2022 midterm elections and that GOP candidates need to do a better job of explaining the issue.
Banning abortion at six weeks of pregnancy, as Florida enacted earlier this year, is unpopular with the US public, according to an Associated Press-NORC Center for Public Affairs Research conducted in June. The poll found that 73 per cent of all US adults believe abortion should be allowed up to six weeks of pregnancy, which is when cardiac activity in a foetus may be detected and before women often know they're pregnant. About half of Americans say abortions should be permitted up to 15 weeks.
In that poll, 56 per cent of Republicans said abortion should be allowed in their state up to six weeks and 29 per cent supported making the procedure legal up to 15 weeks.
But in Iowa's first-in-the-nation Republican caucuses, evangelicals and other social conservatives who strongly oppose abortion make up the majority of those who participate and decide the winner. Republican Governor Kim Reynolds this summer signed an abortion ban similar to Florida's. Reynolds has not endorsed a candidate.
Trump has called himself the "the most pro-life president in American history" and noted that three of his Supreme Court picks formed part of the conservative majority that overturned Roe. He has so far declined to go along with some of his rivals, including his onetime vice president, Mike Pence, who is pushing for national bans that would take effect relatively early in a pregnancy.
Interviews with GOP voters and activists over the past several months suggest a split between people satisfied with Trump's record during his term and others who want Trump to endorse a national abortion ban. Some Republicans in some key states, including those backing his rivals, expressed displeasure after the interview.
Among them was South Carolina state Rep. John McCravy, who sponsored the most recent, restrictive abortion measure, which bans the practice in his state after around six weeks of pregnancy. South Carolina will be among the early states to choose a nominee. McCravy described himself in an interview as "certainly disappointed."
"It sounded completely out of step with his staunch support for life while he was president," he said.
Kristen Waggoner, CEO of the conservative legal organisation Alliance Defending Freedom, also took issue.
"Laws protecting the unborn are not a 'terrible mistake.' They are the hallmark of a just and moral society," she wrote on X. "Governors who protect life should be applauded, not attacked."
Kristan Hawkins, president of Students for Life Action, called the interview "extremely disappointing" and sent a letter to Trump asking him to clarify his statements. The organization, one of the largest anti-abortion groups in the US, said it plans a $5 million door-knocking campaign in 2024 but noted its members were discouraged by Trump's comments.
"The pro-life vote is up for grabs," Hawkins stated. "We need clarity on your vision even as we celebrate your pro-life record."