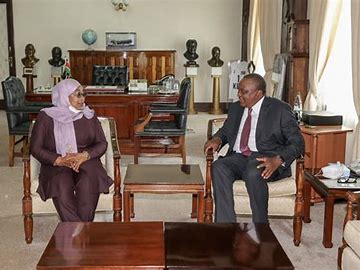 Not before has a Tanzanian president caught the attention and dazzled Kenyans as did the newly installed President Samia Suluhu Hassan during her maiden two-day tour, effortlessly pulling off a diplomatic coup that at the end of her visit endeared her to her hosts whose perception of her predecessors was that of petty grumblers and cunning.
Instead of the traditional complaints about economic domination, President Suluhu told a Kenya-Tanzania joint business forum in Nairobi that she and her host President Uhuru Kenyatta had resolved to put to rest frequent diplomatic rows and non-tariff barriers that have long been an obstacle to the free-flow of trade and skilled labour between the two neighbours, who not only share a border and common national language, but also natural resources.
The Tanzanian head of state bowled over her audience when she declared, "President Kenyatta and I have resolved to remove all trade and investment barriers. Now, Tanzania will come to Kenya full force and invest without fear."
She was even more emphatic with the zinger, "Mna bahati kwamba nchi zetu mbili upande mmoja kuna Uhuru wa kufanya biashara na upande mwingine kuna Suluhu ya kuondosha vikwazo vya biashara. (These two countries are lucky because on one side you have Uhuru (freedom) to do businesses and on the other you have Suluhu (the solution) to non-tariff barriers." Uhuru and Suluhu are Swahili names for freedom and solution
Tanzanian Arusha-based businessman Rostam Azizi had set the tone of the joint business meeting when he narrated how it was difficult for a Tanzanian investor to put money in Kenya because of unnecessary bureaucratic red-tapes, even after being given the all-clear by President Kenyatta. Mr Azizi lifted the lid on how corruption has eaten into the top echelons of government and become a barrier to investment inflow even after Kenya removing legal and trade barriers that previously made it difficult in the past for foreigners to set up business in Kenya.
Azizi explained his frustrations thus, "There are over 530 Kenyan companies in Tanzania that have invested over $1.7 billion. There are only 30 Tanzania companies in Kenya with hardly $50 million that trade in tomatoes, oranges and powered milk. It not a relationship that can be build the two economies. These economies are giants – $180 billion in GDP with a population of 120 million people. We can hardly to work with the other countries if we realise the potential of the two countries. We from Tanzania have tried to invest in Kenya… but meet hurdle after hurdle…If we don't underpin the relationship between Kenya and Tanzania with investments, the relationship is not sustainable. Tanzania cannot be forever an exporter of raw materials while Kenya enjoys the luxury of giving us their manufactured goods. There must equity in this relationship. We need a relation that is beneficial to Tanzanians and Kenyans."
Trading Economics explains ease of doing business as the investment index that "ranks countries against each other based on how the regulatory environment is conducive to business operation and stronger protections of property rights. Economies with a high rank (1-20) have simpler and more friendly regulations for businesses."
Trading Economics ranks Kenya second to Rwanda on the ease of doing business index in the six-member East African Community, while Tanzania is fourth behind Rwanda, Kenya and Uganda. In Africa, Kenya is at position four behind Mauritius, Rwanda and Morocco. Tanzania ranks 18th on the ease of doing business in Africa.
Kenya challenge, investors complain, is corruption at the top level of government with government close to the president, his friends and relatives accused leading the charge, which in the past three years has schemed off more than a third of the county's budget. Although President Kenyatta admits that more than Ksh2 billion ($20 billion) is stolen daily, he has done little to address the vice that has impacted adversely on infrastructure development.
Instructively, President Suluhu came to power on the back a diplomatic row between Nairobi and Dar es Salaam over the handling of coronavirus pandemic. After late President John Pombe Magufuli denied the pandemic had hit the country, President Uhuru included Tanzania in a list of countries that were denied entry into Kenya as a strategy to spread rapid spread of coronavirus.
Magufuli retaliated by banning Kenyan flights from Tanzania airspace as well road transport in and out of the two countries. The decisions, all political and placed under non-tariff barriers had business and trade implications with Kenyan industrial exports to Tanzania affected serious while Tanzania exports – mainly fruits and cereals – to Kenya suffered too.
Consequently, Tanzania banned Kenya's national carrier Kenya Airways from its airspace in what the late Magufuli termed as paying back Kenya in the same cane.
Magufuli's refusal to enforce lockdowns or social distancing measures and to halt the release of figures on infections since late April 2020, made him a regional outlier and caused concern among Tanzania's neighbours and the World Health Organization.
With a stroke of charm-offensive, President Suluhu undid the social and economic barriers Magufuli had erected and smoothed the rough edges of diplomatic relations another former that President Jakaya Kikwete either ignored or deliberately refused to tackle as Tanzania looked to Southern Africa Development Community (SADC) for investments and trade.
President Suluhu has since formed a Covid-19 taskforce to advise her government on the matter, saying they would assess national opinion on the pandemic and make recommendations about "remedies" and policies.
Going forward, Suluhu declared, Kenya and Tanzania – which he said were cojoined at the hip geographically, culturally, socially and economically – must collaborate instead resorting to the proverbial Kilkenny cats-like fights with as a population of roughly 120 million being victims of the resultant unrewarding trade protectionism in the form of work permits requirements, residency permits and yellow fever certificates.
With the goodwill, President Kenyatta reciprocated by directing that Tanzanians would be accorded the same treatment as Kenyan investors. With that, Kenyatta swung open doors for investment and trade for Tanzanians, about which Mr Rostam Azizi had complained of earlier.
"Tanzania and Kenya, potentially, can be much bigger than they are. Unfortunately, we are bogged down by petty politics, protectionism, inward-looking (conservatism) policies and fiscal issues that impede economic development. You can see that the relationship between Kenya and Tanzania is skewed; it is skewed because it is every easy Kenyans to come to Tanzania to invest and we have many examples. There are over 530 Kenyan companies in Tanzania that have invested over $1.7 billion," the businessman-cum-politician told the meeting," Azizi pointed out.