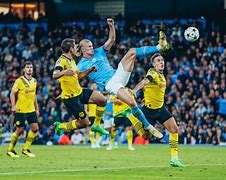 Erling Haaland has taunted Manchester United ahead of tomorrow's derby by insisting there is no defender he is not ready to face. The Manchester City striker, who has struck a remarkable 14 goals in nine games for his new club, says he cannot wait to start creating derby memories.
Judging by his mood ahead of Sunday's early afternoon kick off at the Etihad, Erik Ten Hag's backline could be in for a torrid time.
"I can't wait to play my first derby with Manchester City. It will be fun. I can't wait for them to arrive at our stadium. I hope everyone in the club are ready for the match and attacking at the same time," Haaland said.
"I hope we can play our best football. If so, I think it could be a good evening. I'm ready for the derby, I know how it is. There is no defender I don't want to face."
Haaland's father Alf-Inge played in 10 Manchester derbies between 1994 and 2001, including his last when he was infamously chopped down by Roy Keane. Fortunately for the City striker, his memories of the fixture start later.
"I remember when Mario Balotelli at Old Trafford celebrated with 'Why Always Me?'. I remember that particularly well. Now for new memories," says Haaland.
Meanwhile, a new documentary has revealed how Haaland chose his new club this summer. He and father Alf-Inge drew up a points-based system that ultimately landed Man City their star striker.
Haaland: The big decision goes in-depth on how the Haaland family plotted the 21-year-old's summer transfer from Borussia Dortmund, with the pick of the top European clubs. Alf-Inge is seen listing the interested parties.
He said: "On our list, I think City is the best team. [Bayern] Munich is number two. We have Real Madrid as number three, Paris Saint-Germain as number four. We also have some English teams other than City who are quite good. Liverpool and Chelsea. Also, there is Barcelona. They are sort of in the same row."
Haaland admitted that Pep Guardiola's presence at City played a part in his decision. The Norway international has performed incredibly well under the former Barcelona boss.
"I have never transferred to a club because of the manager. But it is a big plus with [Pep] Guardiola at City, as he is the best manager in the world. It's the best sporting project in the world at the moment and it's where I will do my best."
Haaland also revealed that several City players convinced him to join the side following Dortmund's Champions League match with the English side in 2021. He added: "After that game, I think 15 people said I should come. [John] Stones and Ruben Dias, [Ilkay] Gundogan, [Phil] Foden, [Kevin] De Bruyne…"