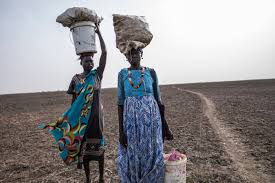 South Sudan is also one of the most dangerous countries in the world for those trying to help – 17 aid workers have been killed since January, according to the Aid Worker Security Database.
"Life this year is worse [than before]," Abuk Kat, a mother of six from the conflict-affected eastern town of Pibor said in a phone interview. "I have grown crops, but I can't even go and weed them because I fear being killed."
Although current violence is framed by the government and some humanitarian agencies as "inter-communal", experts say it is often closely connected to national political and military dynamics, indicating Juba's lack of interest in alleviating food insecurity.
"It is absolutely within the power of this government to create a food secure environment for its population," said a second humanitarian official who asked not to be named to avoid reprisals from the authorities. "It is a question of political will."
While ostensibly committed to the unity government, analysts and UN reports say Kiir's allies have worked to keep the opposition SPLA-IO weak by encouraging high-profile defections and then using the defectors militarily against other opposition forces.
And, in other cases, political and military elites have provided material support to community militias as part of a broader struggle between individuals seeking power and leverage within the country's new political settlement.
Fighting between community militias creates especially high levels of food insecurity because of their social and geographical closeness to one another, explained an aid worker with significant experience working on food insecurity in South Sudan.
"They know how to target one another where it hurts," said the aid worker, who asked not to be named, citing the sensitivity of the issue. "They know where the cattle are being kept. They know where the grain is being stored. The closer the social units that are in conflict with one another, the bigger the [impact] on food insecurity."
The nature of the fighting forces has complicated access to communities in need. During the civil war, agencies reached areas by speaking to familiar armed groups with clear command structures. With the current community militias, "it is often unclear how to operate… and with whom we are negotiating", said the aid worker.
Some fear conflict could soon get worse. In-fighting this month between rival members of the SPLA-IO has led to clashes in parts of the country and reflects growing tensions over Machar's leadership.
And military operations against the holdout rebel National Salvation Front have also been taking place in the southern Equatoria regions, an area traditionally seen as the country's breadbasket.
Agencies have conducted advocacy campaigns explaining that this year's hunger "is significantly worse than what we have seen in recent years", but the message hasn't really resonated outside the country, the senior aid official said.
"The UK's famine envoy, Nick Dyer, came [to South Sudan], the Emergency Directors Group did a special meeting," the official said. "But how much that relates to extra cash, aid, and extra support, is questionable."
Though a UN-coordinated humanitarian response plan requested $1.68 billion for 2021, it is currently just over 50 percent supported. Funding for food security and livelihoods is just 35 percent covered. Underfunded response plans are common in crises around the world.
"We call them criminals, but it is hunger that made them loot. One cannot allow himself to die while sorghum is being carried in front of him."
The current gap means food aid has been prioritised to those facing the highest levels of hunger at the expense of other food insecure populations. Little money and resources are, meanwhile, available should mass-scale flooding take place in the coming months.
Theft of food aid on a scale some say is higher than previous years has further hindered operations. Opportunistic groups have been blamed for some incidents, while warring communities have also used looting to prevent aid from getting to one another.
In one of the latest incidents, on July 15, a WFP convoy carrying food supplies to the conflict-affected state of Warrap was ambushed as it got stuck in the mud, according to the UN's World Food Programme, or WFP.
Mawien Majith, a government official from the area where the convoy was attacked, said the looters included women and children among "hundreds of armed youths."
"We call them criminals, but it is hunger that made them loot," Majith told The New Humanitarian. "One cannot allow himself to die while sorghum is being carried in front of him."
Adeyinka Badejo, deputy country director for WFP in South Sudan, added: "We are already facing a situation where we have reduced funding… and then we have a situation where opportunistic raiders are looting the food in the warehouses or in transit."
Meanwhile, people in some communities have been protesting against aid agency hiring practices, arguing that they should employ more staff members from their local area, rather than from distant parts of the country.
According to WFP, the protests – which have taken place in previous years too – reflect "a growing frustration among youth regarding high unemployment and the lack of income opportunities" in the country.
Nyoun of the University of Juba added: "The youth who were participating in the war are back in the communities, with no [peace] dividend. To survive, they are engaging in communal conflicts, looting, and plundering, because they have no other livelihood."
The New Humanitarian report