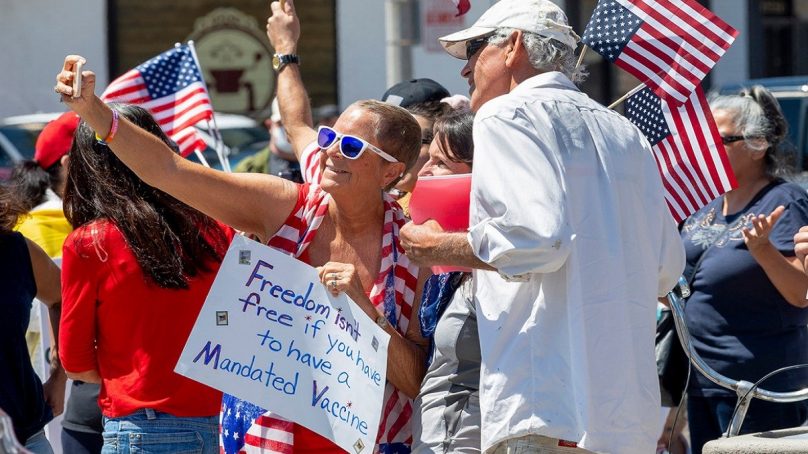 The United States Centres for Disease Control and Prevention (CDC) offered $66 million over five years to two organisations – the Council of Medical Specialty Societies (CMSS) and the Society for Post-Acute and Long-Term Care Medicine (AMDA), which are membership-based medical associations.
Typical projects from among the hundreds that received such funds to conceal the risks the approved vaccines posed include:
The Boston YMCA's plans to create pop-up vaccine clinics.
The Iowa Public Health Association Foundation's plan to hire a black-owned media marketing company to create a "vaccine storyteller's project," using "authentic voices to encourage vaccination."
The Atlanta NAACP's plan to pay social media influencers and digital marketers to "positively influence audiences" with respect to vaccine uptake.
A project to train "vaccine ambassadors" in Orange County, California, to combat "vaccine misinformation and disinformation" in the Latino community.
CARECEN's campaign to inspire day labourers and other Spanish-speaking immigrants to get vaccinated through conversations, neighbourhood vaccine drives, and a social media campaign.
Mississippi's HCC network's project to offer $200 to people living well below the poverty line and to migrant workers to attend "listening sessions" on vaccination where they will also be offered vaccination.
Asian Services in Action's plan to create pro-vaccine materials in Mandarin, Karen, Nepali, Burmese, Pashto, Dari and Swahili and circulate them on social media, in events at Asian American community centres and provide 500 people with "direct assistance" to be vaccinated.
Some of the larger grants include $2,345,210 to The Public Good Projects (PGP) – a public health non-profit "specialising in large-scale media monitoring programmes, social and behaviour change interventions, and cross-sector initiatives" and working to "combat the vaccine infodemic" — to address misinformation by improving social media policies, and by working to:
"Continuously detect and assess misinformation by using PGP's novel and validated social listening systems and media monitoring methods. PGP will deploy its project vector while expanding its focus on prioritised communities of colour.
"Finally, the project will reactively intervene on misinformation through alerts to media and social media platforms, a novel nationwide influencer network activated through social media and email alerts containing explanation and talking points, and a novel network of community-based organisations supported through explanation, talking points and tailored media content."
Almost $3 million went to a creative design agency called Insomniac Design to create the Vaccine Resource Hub – a national database providing "diverse, culturally relevant and accurate materials that community-based organisations (CBOs) and the public can use to educate and inform their community about vaccines" – and a chatbot that would help users locate data, and collect data from them.
Approximately $2.8 million went to Culture One World to create a "team-vaxx" "super-team" that includes a "social listening and analytics" company called Reingold Communications and a team of social, digital and influencer companies to work with CBOs to "dismantle vaccine-related falsehoods and conspiracy theories, combat misinformation online and offline, and increase vaccine trust among their constituents."
This grant is part of the CDC's Partnering for Vaccine Equity programme. It is also a supplement to the CDC's Racial and Ethnic Approaches to Community Health programme, in existence since 1999.
The grant supports activities to eliminate "disinformation and misinformation," but does not specify what that consists of. Over the course of the pandemic, CDC officials themselves have been found to make false or misleading claims with respect to Covid-19, including about vaccine safety and efficacy and natural immunity.
The CDC also offered other funding to develop tools to combat misinformation and disinformation, the Defender reported. Another grant opportunity, with a January 19, 2021, deadline, offered $5 million over five years to up to three professional and medical organisations to "reduce racial and/or ethnic disparity" among adults for flu and Covid-19 vaccine uptake.
Through the grant, "Partnering with Professional and Medical Associations to Increase Vaccination Coverage Across Different Racial and Ethnic Adult Populations Experiencing Disparities," the CDC sought to "increase the likelihood that providers, particularly providers of colour, will recommend vaccination to patients from these racial and ethnic groups."
The CDC identified the 2020-2021 flu season as "a critical opportunity to ensure equal uptake of the flu and Covid-19 vaccines, when Covid-19 vaccines become available."
The first mRNA Covid-19 vaccines were authorized for emergency use in December 2020. The CDC made two awards, one to the National Hispanic Medical Association and one to the National Medical Association, whose mission is to promote the interests of physicians and patients of African descent. Both awards are currently in their second year.
The National Hispanic Medical Association received $2,070,000 in two annual grants so far for their "Vacunas! Si Se Puede, Immunisation Campaign for Hispanics," programme which later became "We Can Do This."
The CDC awarded $1,808,820 over the last two years to the National Medical Association, called "Increasing Adult Immunizations in African American Patients with Special Emphasis on Influenza and Covid-19" – a total of $1,808,820 over the last two years. They also called their campaign the "We Can Do This Campaign."
Both organisations worked with the CDC to create "culturally tailored content" for patients and physicians to increase vaccine confidence and uptake among their target populations.
The "We Can Do This" vaccination campaigns draw their name from the "Si, Se Puede" slogan of the United Farm Workers movement that was re-popularised during the 2016 May Day migrant marches demanding amnesty for undocumented people. The term was then used by the Obama campaign for the 2008 campaign slogan, translated as "Yes we can!"
The work by these grantees contributes to HHS's campaign, also called "We Can Do This."
The third five-year grant offered in April 2021 targets adults with chronic medical conditions and those working and living in long-term care facilities.
The United States Centres for Disease Control and Prevention (CDC) offered $66 million over five years to two organisations – the Council of Medical Specialty Societies (CMSS) and the Society for Post-Acute and Long-Term Care Medicine (AMDA), which are membership-based medical associations.
The CMSS is a coalition of 48 specialty societies representing more than 800,000 physicians. The AMDA is a medical specialty society of 5,500 medical practitioners working in skilled nursing facilities, long-term care and assisted living communities, continuing care retirement communities, home care, hospice, and other long-term care settings.
This grant funds the two organisations to incentivise their respective member groups and affiliates to adopt the Standards for Adult Immunisation Practices, to develop vaccine policy statements and to award funds to their members and affiliates to systematise routine delivery of adult immunisations within large healthcare systems and long-term care chains.
The standards recommend that at each patient visit, a doctor should assess immunization status, recommend and administer vaccines and document the vaccines administered in the immunisation information systems.
Grantees are required to collaborate with external partners and organisations including professional organisations, healthcare systems and long-term care chains. This programme also included a focus on racial and ethnic minorities and uninsured and underinsured populations.
A Tell / The Defender report / By Brenda Baletti, a reporter for The Defender