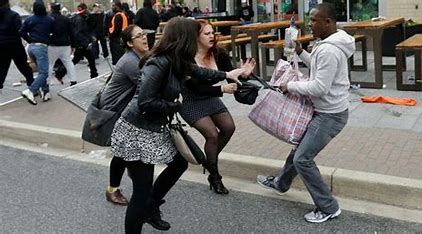 The "fight against crime and corruption" is one of the African National Congress' (ANC) six priorities for 2023, according to the ruling party's January 8 statement. But it offers little beyond vague and poorly considered proposals on the way forward.
The statement, issued each year on the anniversary of the ANC's founding in 1912, sets out measures that government should prioritise. It provides insight into the quality of leadership the ruling party has to respond to the country's many problems.
The latest crime statistics are cause for concern – especially murder figures, which are the most reliable indicator of serious violent crime levels. Since their low point in 2011-12, the number of murders has increased by 62 per cent in 2021-22 – reaching 25,181 deaths.
The 2021-22 per capita rate of 42 murders per 100,000 is the highest since 2003-04, when the rate was 43 per 100,000. Figures for April to September 2022 indicate that rates in 2022-23 are even higher.
The ANC's vague proposals to address the problem include increasing "the number of police personnel to match our country's population increase, in line with international norms." It's quite meaningless to compare police between different countries based on their numbers. There is also no basis for the idea that there are international norms for police-to-population ratios.
A single police officer is not a standard unit of police service. Linked to selection criteria, training, equipment, management systems and infrastructure, there are enormous disparities between police in different countries regarding the service an individual officer can provide. The number of police means something completely different in a wealthy country as opposed to one where police have few vehicles and no fuel or spare parts for the ones they have.
Counting the number of police is also not straightforward. Some countries have extensive police auxiliary systems. Whether or not they are included in overall police numbers will affect the calculation of ratios. One would also expect the ANC statement to recognise that solutions should be grounded in more effective use of resources, not simply expanding the state salary bill.
Rather than focusing on police numbers, clarity is needed on the core functions that the South African Police Service (SAPS) must provide and how these will be systematically strengthened. This should inform the type of officers that SAPS recruits.
If there is a need for more police, this cannot be justified by the vague claim – articulated by Police Minister Bheki Cele – that it's required to maintain police visibility. It should be based on sound motivation about the exact purpose for which recruits are to be hired.
Recruitment has recently been called for to expand the number of public order police – a knee-jerk reaction to concerns about SAPS' response to the July 2021 unrest in KwaZulu-Natal and Gauteng. But hiring more public order officers is likely to be wasteful.
Notwithstanding events of July 2021, crowd management "unrest" incidents in the 2021-22 police statistics are the lowest since 2015-16. Numbers of peaceful events are dramatically lower than all figures over the past decade, apart from 2020-21, when public protests were prohibited under COVID-19 lockdown regulations.
Meanwhile, the police's ability to solve murder cases has plummeted by 55 per cent since 2011-12. With current detection rates for murder at 14.5 per cent, one area in which SAPS is failing is crime investigation. There are too few detectives, with some carrying an inordinately large number of dockets. In the five years from 2017/18 to 2021/22, the number of detectives fell by 989 posts from 39,069 to 38 080.
There is likely merit in considerably expanding the number of police investigators. But low detection rates are not reducible to detective numbers. The quality of engagement by uniformed police who respond first to crime incidents is also a factor.
More importantly, hiring additional detectives could amount to fruitless expenditure unless accompanied by systematic measures to strengthen SAPS management. For starters, better recruitment and training systems are needed to provide the police with appropriately qualified personnel.
Systems for recruiting detectives must ensure that – along with violent crime cases – investigators can be trained to handle corruption and organised, financial and cybercrime. Failing that, SAPS won't be able to address the embedded crisis of crime in South Africa.
This raises the need for institutional reforms, starting with revitalising SAPS' top management structure. This is vital given the Public Service Commission finding that a quarter of senior government managers don't have the minimum qualifications to do their jobs.
The key issue facing policing in South Africa is not international police-to-population ratios. Restoring trust and confidence in the SAPS starts with clarifying the core services that police need to provide.
To ensure officers can deliver these services at greater scale and quality, systems for recruitment, training, management, supervision and discipline must be rebuilt.